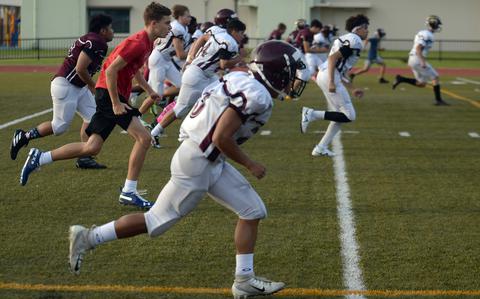 After years of success, Perry is entering a new era
Third in a series of football previews at DODEA-Pacific High School.
MARINE CORPS AIR STATION IWAKUNI, Japan — It was only a matter of time, Billy Henry said. But the defensive coordinator for three seasons says he didn't expect to be promoted to head coach Matthew C. Perry so soon.
Nor did anyone involved with the Samurai expect Frank Macias, who had become the face of the program for the past seven full seasons, to accept a new position at Fort Campbell, Ky.; he leaves in mid-September.
"It was a shock," said Henry, who along with the rest of the school learned of Macias' departure earlier this month. In addition to this new position, Macias said he wants to be closer to his sons, Austin and Garrett, who currently live in the United States.
"I couldn't be happier for him to be closer to his family," Henry said. "But filling their shoes, I don't think anyone can do that. He was the architect. We will do our best to carry on his legacy. Hopefully we can move on and see where we go.
In addition to his head coaching duties, Henry will remain in charge of defense, while Daniel Burns, in his second year with the program, continues as offensive coordinator.
Both have DODEA bloodlines; Henry's father coached at Hohenfels, Stuttgart and Guam High, while Burns played for Seoul American in the late 2000s and led the Falcons to the Far East Division I title in 2006.
"I'm very excited to have Billy" take the reins, Burns said. "Even if it's impossible to replace Frank, I think we can keep this train moving."
Macias, who coached in Germany before arriving at Iwakuni in 2012, restarted Samurai football after an eight-year hiatus, running it as a junior varsity program before joining the DODEA-Japan Tour in 2014 and leading Perry three Far East Division II titles. matches in four seasons.
"Life is changing," Macias said. "It's definitely bittersweet. But my sons have grown up and gone and we want to be closer to them. But leaving this family is certainly not easy.
They are a family of samurai who are in the midst of rebuilding, having lost their key skill players in a team that went 6-2 over the past two years, and last season proclaimed themselves unofficial DODEA-Japan champions. D-II.
A core of five seniors returns. Jordan Wooten returns under center, while Maddix Larue and Kirby Kendrick anchor a smaller line than last season.
"Losing all those seniors and all that production hurts," Henry said. "They've had fantastic careers here at Perry. However, with these guys gone, it gives other players a chance to step in and do great things for us. The next man.
Despite the challenges, Macias says he's comfortable passing the torch to Henry and Burns. "Samurai football is in good hands," he said.
Raven Rayos, editor of the school newspaper Matthew C. Perry, contributed to this report.
Matthew C. Perry Samurai
2021 season record — 6-2.
The head coach – Billy Henry, first season. Replaces Frank Macias, head coach for seven seasons.
Championship – 2016 Far East Division II (lost in three other appearances, 2014, 2017 and 2019).
Returning players — 15.
Returning starters — 4.
Key performers — Kirby Kendrick, Sr., L-FB; Jordan Wooten, father, QB; Maddix Larue, father, L; Eddie Pacleb, Sr., RB; Billy Henry, Sr., WR-DB.
Strengths – Decent core of experienced seniors. A new head coach who has been in the Macias system and plans to continue it.
Disadvantages – Replacing the face of the franchise since joining Iwakuni in 2012 won't be easy. Neither will replace nearly all of the playmakers on a team that beat every small school DODEA-Japan twice last season. Inexperience at all levels could be the big problem.
[email protected] Twitter @daveornauer