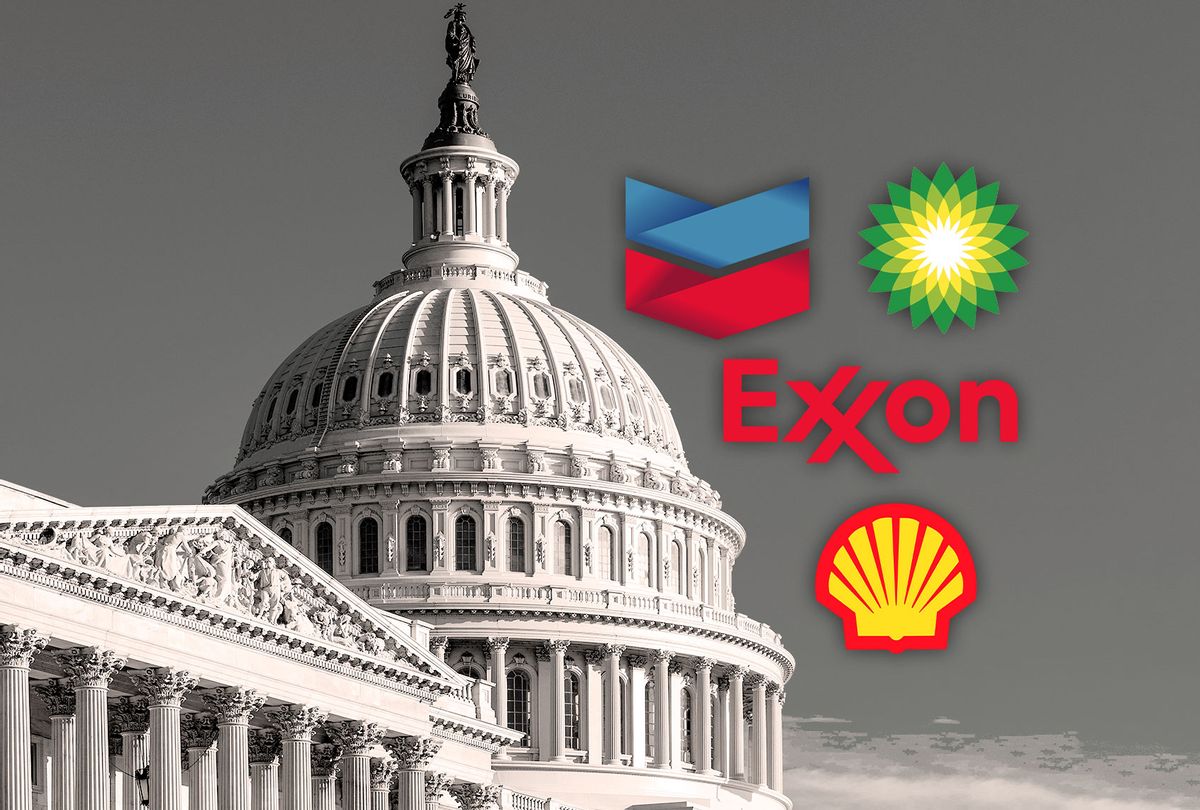 Democrats enjoy landmark hearing with Big Oil executives
Congressional hearings often produce iconic quotes.
In the 1950s, when an army lawyer felt compelled to stand up to popular far-right demagogue, Senator Joe McCarthy, R-Wisc., He asked, "Do you have no sense? of decency? Four decades later, when seven Big Tobacco executives were asked how their industry lied to consumers about the health risks of their products, their various lies and scientific errors cost them their jobs as they were fighting federal investigators on perjury charges. While Big Oil executives did not receive the same headlines as the McCarthy or Tobacco events, their testimony to Congress on Thursday was just as historically significant.
For the first time, four CEOs of some of the world's largest oil companies have had to speak publicly and under oath to find out whether they had deliberately deceived the public about climate change.
In terms of memorable quotes, Rep. Alexandria Ocasio-Cortez, DN.Y., summed up the prevailing sentiment among Democrats on the House Committee on Oversight and Reform when she told leaders people "will live there. future you all set on fire. " The "you" in Ocasio-Cortez's statement included CEOs David Lawler of BP, Darren Woods of Exxon Mobil, Michael K. Wirth of Chevron and Gretchen Watkins of Shell. They were joined by Mike Sommers of the American Petroleum Institute industry group and Suzanne Clark of the United States Chamber of Commerce.
An important question was whether the oil industry is protected by the First Amendment if, by its speech, it creates conditions that pose an existential threat to the survival of mankind.
Rep. Jamie B. Raskin, D-Md., Asked the assembled Big Oil titans if they "accept that the First Amendment does not protect fraudulent commercial speech." Executives in various ways referred to their respective legal experts instead of answering the question, even though Rankin reserved his strongest language for Woods. After ExxonMobil was sued by the Massachusetts attorney general for lying to customers about climate change, the company counterattacked by arguing that pseudoscience traffic was a First Amendment right.
"I am not opposed to lawsuits against particular companies – take Exxon, just by way of illustration – on the basis of clear and convincing evidence (to the satisfaction of a jury under judicial review) that those companies (or individuals who run their businesses) have deliberately falsified research results or other data in order to disguise their own knowledge about how and to what extent their own products or services and those who purchase them contribute to anthropogenic climate change, "he said. said Laurence Tribe, professor of law at Harvard, at Salon in 2018. "Such litigation would be based on classic principles of economically motivated fraud and would avoid the pitfalls and dangers of establishing a formal system to determine what is true and what is false in the world of scientific claims.
---
Want more Amanda Marcotte on politics? Subscribe to its Standing Room Only newsletter.
---
As they tried to avoid tobacco executives' strategic mistake of lying outright, and therefore risking perjury charges, oil executives often found themselves trying to strike a delicate balance. When asked if they would pledge to stop funding lobbyists who aim to eliminate carbon emissions and ask their various business groups to stop opposing electric vehicles, they refused. Rather, their strategy was to recognize that burning fossil fuels leads to climate change, to claim that they support the transition to clean energy, and to refuse to engage in campaigns to deceive people about fossil fuels and fuel consumption. climate change. They also stressed that they were not prepared to let the fossil fuel industry disappear anytime soon.
This middle ground between shrillness and deference was necessitated, in part, by a leaked video that showed ExxonMobil lobbyist Keith McCoy (then Exxon's senior director for federal relations) describing the support for the company to a carbon tax as nothing more than an "easy talking point". Acknowledging that this clip helped spark the hearing, Rep. For Ranking Member James Comer, R-Ky., Claimed that the video was 'postponed and deceptively edited' and as such " the American people must question the legitimacy of the Democrats' actions. "House Democrats, on the other hand, used this video as a jumping off point to call what they claimed were other examples of bad faith by Big Oil.
Rep. Katie Porter, D-Calif., Called Big Oil "green laundering" or fooling people into mistakenly believing they are eco-friendly. To illustrate how they do this, Porter held up two jars of M&M candy. One of the jars, which was nearly empty, symbolized Shell Oil president Gretchen Watkins' plans to spend between $ 2 billion and $ 3 billion this year on renewable energy. The other jar, which was nearly full to the point of overflowing, symbolized the $ 19-22 billion Shell plans to spend in the near future exploring new fossil fuels.
"To me, that doesn't sound like an adequate response to one of the defining challenges of our time," Porter argued. "This is green washing. Shell is trying to make people believe that it is tackling the climate crisis when it really is about continuing to invest in fossil fuels."
Representative Ro Khanna, D-Calif., Made a similar point when he noted that executives could easily tell business groups like the American Petroleum Institute to stop funding marketing campaigns to thwart the policies of climate change mitigation such as the manufacture of electric vehicles. He added that Sommers, the director of the American Petroleum Institute, was literally "sitting right next to you on the virtual screen." The leaders declined to comment directly on Khanna's issue.
Ocasio-Cortez had a specific observation for Sommers. "I am aware that we have a hearing today on disinformation and disinformation campaigns on fossil fuels on the very day we must vote on legislation that has been deeply influenced by the lobbying efforts of the industry. fossil fuels, "she said. the executive, referring to the ongoing negotiations on President Joe Biden's legislative program.
Republicans attacked the audience claiming she was not American. Rep. Jim Jordan, R-Ohio, a staunch supporter of former President Donald Trump who faces charges of ignoring sexual abuse reports while working for the state of Ohio, has characterized the hearing as unethical.
"I'll tell you what's frustrating is a congressman telling US oil and gas companies to cut back on production," Jordan proclaimed. He later added: "God bless Chevron!"
Republicans also brought in ex-Keystone XL pipeline worker Neal Crabtree to testify that Biden cost him his job by canceling the construction project shortly after taking office for president. "There doesn't seem to be a thought for the hundreds of thousands of workers in this industry," Crabtree explained, adding that he had worked in the industry for 25 years and "I'm too far in life to start over" .
If climate change is not brought under control, humans will experience an increased number of extreme weather events such as hurricanes and forest fires in the near future; prolonged periods of drought; the rise in sea level that floods coastal areas, displacing hundreds of millions of people; and the breakdown of essential supply chains providing everything from food to microchips.