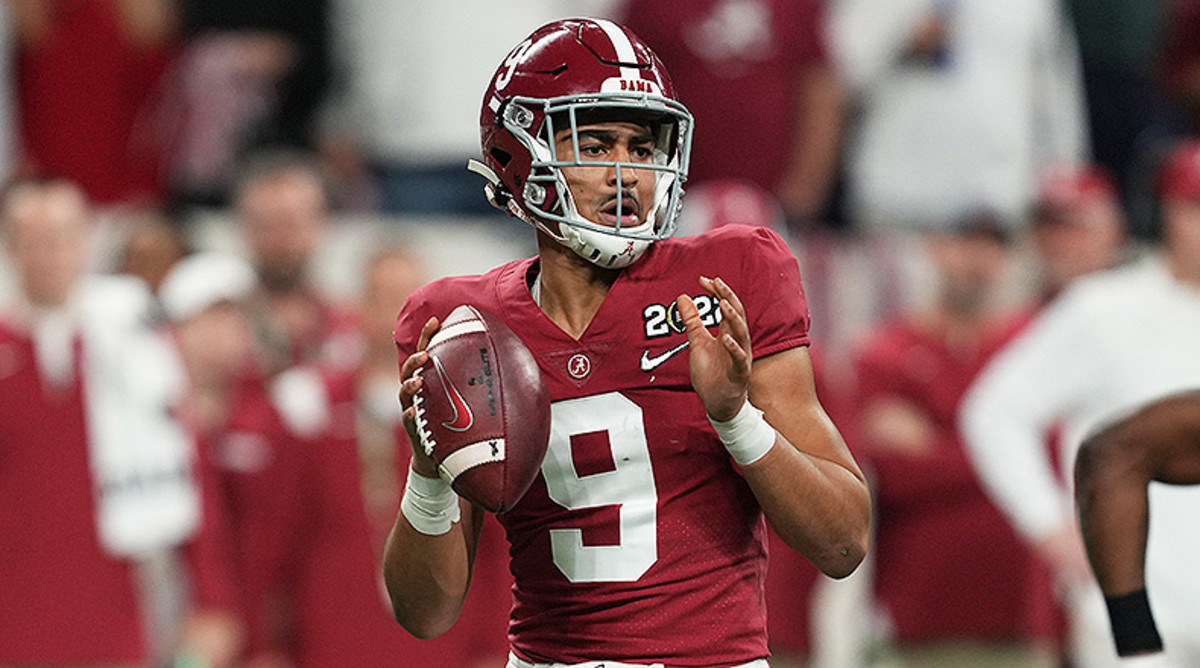 Football in Alabama: Can the Crimson Tide take back the national title in 2022? – AthlonSports.com
Let's face it, when Aflac came out with these series of Nick Saban / Deion Sanders commercials earlier this football season, Sanders asked Saban in one of the spots to earn another ring. Ole Saint Nick replied, "There is always room for one more."
At this point, you can bet that most of the college football world responded to this ad with a collective, "Ugh."
Okay, so the ultimate scarcity in college football happened on Monday night. Yes, the Alabama Crimson Tide actually lost a championship game. And to add to the rare factor, Nick Saban actually lost to a former Kirby Smart assistant. The only other time that has happened in the last, what… 40-50 years old, it seems, was earlier this year when the Tide lost to Jimbo Fisher and Texas A&M.
But here is the message underlying this #BREAKINGNEWS; don't get used to it.
Related: Way Too Early In Ranking The 25 Best College Footballers For 2022
What you saw in the Championship game was a team that is still bursting with talent and didn't quite manage to secure a second straight win against a very good team from Georgia. Any coach will tell you that it's hard to beat a great team once. Beat a really good team twice? It is almost impossible.
But again, don't get used to those checks in column L.
The good news for Alabama fans (and the bad news for the rest of the 98.7% of college football fans across the country) is that the Crimson Tide will be even better next year.
My apologies to college football fans around the world.
Offense
Key returnees
QB Bryce Young
WR Slade Bolden
TE Cameron Latu
OL Javion Cohen
OL Seth McLaughlin
OL Darrian Dalcourt
OL Damieon George
Likely key departures

RB Brian Robinson Jr.
WR Jameson Williams (reportedly tore his ACL in the National Championship game)
WR John Metchie III (tore his ACL in the SEC Championship game)
TE Jahleel Billingsley
OL Evan Neal
OL Emil Ekiyor Jr.
Defense
Key returnees
DL DJ Dale
DL Byron Young
DL Justin Eboigbe
LB Will Anderson Jr.
LB Henry To'o To'o
DB Jayln Armor-Davis
DB DeMarcco Hellams
DB Malachie Moore
DB Brian Branch
DB Kool-Aid McKinstry
Likely key departures
DL Phidarian Mathis
LB Christian Harris
Battle of the DB Jordan
DB Josh Jobe
Three offseason scenarios to watch
1. Replace expected departures
Even though the Crimson Tide failed to win a repeat national title, several players on both sides of the ball are expected to declare themselves early for the NFL Draft. The recent serious knee injuries suffered by wide receivers Jameson Williams and John Metchie III could have a bearing on their decisions, but even if either or both return, Alabama is losing experienced talent in both attack and play. defense. Of course, some of those draft-eligible underclassers might change their mind before next Monday's deadline to declare.
But that's in Alabama, where passing four and five star talent is being replaced by younger four and five star talent. I mean, look at the receivers called up in the title game due to Metchie's absence and then Williams in the second quarter. Freshmen like Ja'Corey Brooks and Agiye Hall and sophomore Traeshon Holden are well positioned to take on bigger roles in 2022.
But also look for Nick Saban and his team to hit the transfer gate again this offseason, as they did when they clinched gold with Williams (Ohio State) and linebacker Henry To'o To'o ( Tennessee) last year. In fact, the Tide has already coiled a pair of big fish into the gate of former LSU cornerback Eli Ricks and Georgia Tech running back Jahmyr Gibbs. I mean, come on, who doesn't want to win a national title? Saban's recruiting speech is simple: "Come to Tuscaloosa and get yourself a ring." And some NIL offers are worth a ton of money while you're at it.
2. Restore dominance at the front
This Bama team have had a few glaring holes this season, most of which may have been along the offensive line, from all places. We'll get to that in a minute, but first, let's face it, the Tide struggled a few times last season. And I mean beyond that tight loss at Texas A&M. I dare say, they seemed to mail it sometimes. Watch their narrow victory over Florida where the Tide were outscored 26-10 down the home stretch and had to stand on the goal line to escape the Swamp with a two-point victory. Florida were the better team that day in three quarters and, in the end, the Gators weren't a very good team, finishing 6-7. Against Tennessee it was a one-point game in the fourth quarter. Against Arkansas, another one-scoring game in the fourth quarter. Against Teams Tiger (LSU and Auburn), Bama narrowly escaped with narrow wins, with Auburn's game a four-overtime bleed. LSU and Auburn both have had losing seasons, as have Florida.
The O-line has their usual lineup of future NFL rookies and all, but they've also given up 38 sacks this season, which puts them in the FBS's 110th overall in allowed sacks. At just 6 feet and 190 pounds, it's amazing Bryce Young has held up so well this season. And for as good as Brian Robinson Jr. was at times this season, it's also worth noting that the racing game was ranked 10th in the SEC. It is breathtaking.
It wouldn't be surprising to see offensive line coach Doug Marrone leave (sacked?) Staff in the near future. If Saban can find a better O-line coach, that will only help him in the long run. If Bama reestablishes his dominance in 2022, maybe Ole Nick won't have as many media outbursts as he has this season.
3. Emphasize discipline
I can't believe I'm writing this about a team coached by Saban, but Tide were an unruly team this season. Penalties, unwanted turnovers, missed missions, the aforementioned bags, victims of special effects, special team blunders, the list goes on. Namely, heading into the national title game, the Tide ranked 115th in the FBS in terms of penalties and yards per game. Only Florida and Ole Miss committed more offenses than Tide in the SEC. They also ranked No. 118 in the country in number of negative yards (95 before Georgia's rematch) by their offense. And they also ranked 70th nationally in red zone defense. Is this amazing? In fact, it's the sort of thing that makes Bear Bryant roll over in his grave.
It's no secret that the Tide is losing high octane talent every year. Look, they lost guys like Mac Jones, Najee Harris, DeVonta Smith, Jaylen Waddle, Patrick Surtain, Alex Leatherwood, Christian Barmore and Dylan Moses from last year's squad and they still made it back to the playoffs. of college football and played for the national championship. Title. If there's more good news this time around, it's that the potential draft losses shouldn't be that big and Alabama sack the reigning Heisman Trophy winner (Young) and top defenseman (linebacker Will Anderson Jr.).
Oh yeah, and most importantly, Saban hasn't retired yet.
Like it or not, things aren't going to change anytime soon in Tuscaloosa.
– Written by Eric Sorenson, who is part of the Athlon Contributor Network. He is passionate about college football, college baseball and college hockey … and a writer. Follow him on twitter @Stitch_Head.