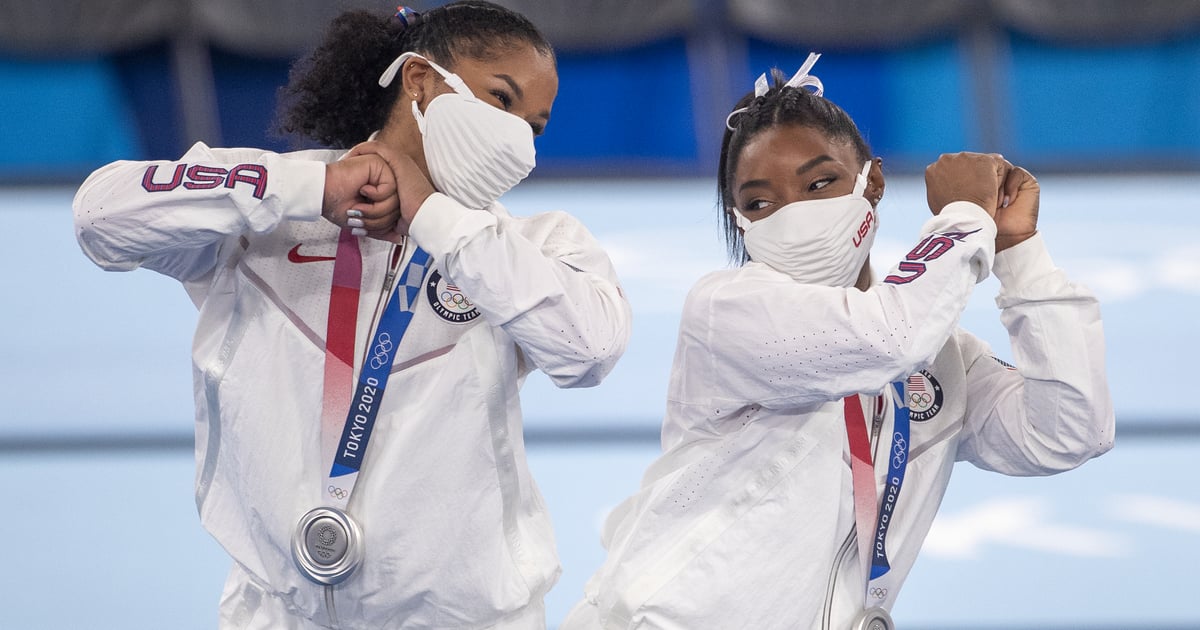 Simone Biles' teammates react to her engagement
Simone Biles and Jonathan Owens are now engaged. And despite having 25 World Championship medals, seven National All-Around titles, and the same (seven) Olympic podiums in total, Biles' gorgeous ring is gear she'll wear all year round, not just in competition.
In fact, her friend and former bandmate Jordan Chiles somewhat predicted an engagement when POPSUGAR spoke with her and Biles on the Gold Over America tour. She said at the time that she could see Biles "engaged or married" in the next five years. Looks like that prediction was accurate! "My best friend is getting married," Chiles, who competed on the silver medal team alongside Biles in Tokyo, wrote on her Instagram Story. "Congratulations to you two !!!"
Olympic all-around gold medalist Suni Lee shared Biles' Instagram announcing the engagement on her own story with some extremely appropriate crying and heart emoji. Lee also commented on a series of all-caps reactions to Biles' post, each of which sums up our excitement: "IM SCREAMING IM SO HAPPY," "OH MY GOSSSSHHHH," and "STOP IT RN." Olympic floor champion Jade Carey shared her own congratulatory message, and Tokyo team member Grace McCallum added "the cutest" via her Instagram story.
MyKayla Skinner, now retired Tokyo Olympics silver medalist in vaulting, wrote on her Instagram Story, "Soooo happy for u!! You both deserve the world," adding in the comments of Biles: "I've been waiting for this day to happen!!!"
As for Biles' teammates at the Rio Olympics, Aly Raisman retweeted his ad, and Laurie Hernandez posted an emoji-filled reaction to her Story. Madison Kocian wrote on Biles' Instagram post how excited she was for the couple.
Nia Dennis, a senior national team member for two years with Biles and part of Biles' tour last fall, shared on her Instagram story, "I LOVE LOVE," and she congratulated the engaged duo. There has been an influx of comments from gymnasts who have competed with or against Biles, known her in the elite world or toured with her: Morgan Hurd; Maggie Nichols; Ellie Black from Canada; World Champions Center gymnasts Sydney Barros, Zoe Miller and Olivia Greaves; and 2012 Olympians Jordyn Wieber, Kyla Ross and McKayla Maroney. Biles FaceTimed 2008 Olympian and NBC commentator Nastia Liukin to show her the ring as well.
Support from the world of gymnastics? We would give that a 10.00, no judge necessary.